Finu, Eva and Tara. 'Finu' is short for Josefina. Finu and Eva try some of my very strong coffee made using the French Press. I brought fresh coffee for Finu and planned to get a Melitta in Mérida. Finu and I searched countless stores with no luck. I don't think there is a Melitta anywhere is Mexico. Elizabeth saves the day by shipping one from home that arrives on the last day!
¡Muy elegante! ... Finu is taking her two niños out to her favorite Cuban club
Tara esta pensando BAÑO, Pepe esta pensando CONTENTO
Rich, Finu and Tara at the Cuban club well after midnight in Mérida, listening to live Cuban music. Finu is well known here and the owners come by the table to say hola. The gringos are sleepy after midnight but it is still very early for Finu!
My room in Mérida
Finu and Tara
Do I hear the water truck? ... Let me at him!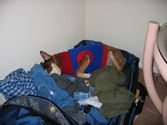 A Pepe le gusta dormir sobre mi equipaje. ¡Pepe, no hagas pipi allí!
Perfect for morning Yoga stretches
Don't forget me
Tara waiting for the good ole 52 Norte bus. Frequent, fast, and bumpy on week days ... but it goes really S-L-O-W on Sundays!
Rich and Finu at Trotters.
Finu 'Jr' y Tara, las mujeres guapas, en Trotters.
Wait, I thought that was my brownie!
Angela y su sonrisa
Just a simple memory upgrade, won't take more than 10 minutes, naw, I can do it in 5 ...
Upgrade 256 MB to 512 MB ... piece of cake. I get up really early in the morning so it will be all done before anyone else wakes up.
The swap goes very smoothly. Lets test it now ... Hmmm, after installing the new RAM, this baby is not powering on ?????????
After a whole day of running around town with Finu, missing school, second guessing, clues about past problems from Finu 'Jr', troubleshooting, borrowing tools, tipping techs, finding a new power supply, ...
... the computer is finally back in action and better than ever ... and most important, Finu 'Jr's artwork is still safe and sound (wheww!)